All-in-one turnkey solution in one appliance
UP to 1000 users
Windows Server 2012 with Microsoft Hyper-V
Microsoft Lync Server 2013
Lync certified VoIP Gateway and SBC
Include: SIP trunking, TDM connectivity, PSTN failover
Remote user support view Microsoft Lync Edge Server
Active Directory support
1000 user support with a single Lync Express unit
Office 365/Lync Server on-premise integration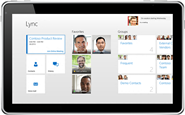 Stay in touch anywhere: Lync enables users to communicate securely anywhere they have network connectivity, and automatically adapts to network conditions.
Use the device you want: Lync makes communicating easier with a consistent and familiar experience available on Polycom Desktop, Windows PCs, Windows Phone, iOS, and Android smartphones. The new immersive Lync app for Windows 8 and Windows RT provides a seamless touch-first experience.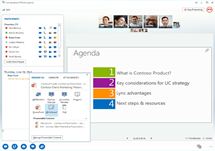 Communicate in the right way: Lync unifies voice and video calls, Lync Meetings, presence, and instant messaging (IM) in one easy-to-use client, making it simple to choose and switch between different forms of communication.
Connect with the outside world: Lync federation extends unified communications securely over the Internet to customers, suppliers, and partners using Lync or Skype.
Take advantage of standards-based HD video: Lync uses open standards including H.264 SVC to provide a high-quality video experience on a wide range of devices.
Make virtual meetings more effective: See up to five meeting participants simultaneously with new multiparty HD video support. You can choose who to see or let Lync choose for you.

Easily join meetings: Joining a Lync Meeting requires only a single touch or click on smartphones, tablets, and PCs.


Extend Lync Meetings outside your organization with browser-based access: The Lync Web App allows PC and Mac users to join a Lync Meeting from a browser and delivers a full online meeting experience including IM, voice, multiparty video, data collaboration and sharing